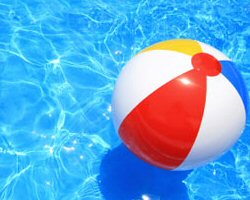 Regardless of our swimming abilities, many of us beat the heat in our backyard swimming pool as summer temperatures soar. It seems that taking advantage of a residential swimming pool is more popular than ever before. In fact, over seven million swimming pools and five million hot tubs are estimated to be in residential or public use in the United States, according to the Centers for Disease Control and Prevention (CDC). But all swimming pools – from the simplest inflatable wading pool to the most elaborate luxury in-ground variety – can present a danger, especially to children. Between 2005 and 2014, fatal, unintentional drownings in the U.S. averaged over 3500 annually. More than one out of five drowning victims was reported to be 14 years old or under.
The following safety rules will prevent accidents and decrease your potential liability exposure:
Empty wading pools completely after each use, and always store them upside-down to avoid collection of rain water.
Install a fence at least 4 feet high around the entire pool area with a gate that latches and locks. Never leave furniture or other items close enough to the fence to allow children to climb over. Pool alarms and safety covers add extra protection.
The powerful suction of a swimming pool drain can trap a child under water. Cover your pool drain with a safety guard, tie up long hair before swimming, and teach children to stay away from drains and filters. In particular, teach them never to sit on a pool drain.
Post emergency numbers and CPR instructions in the pool area. Store a first aid kit, a cordless water-resistant phone, reaching poles and ring buoys near the pool area to be used in case of emergency; and do not allow children to play with these items.
Consider having older teens and adults take a course in basic first aid and CPR, and enroll your family's non-swimmers in swimming lessons with a certified instructor. Anyone who is not a good swimmer should wear a U.S. Coast Guard approved life vest while in your pool.
Adults should not swim alone, and children should never swim without an adult present and watching them constantly.
Keep the pool area clear of glass items, electrical devices (radios, CD players, etc.), and obstacles that could cause a fall or other injury.
Homeowners Insurance and Pool Liability Issues
If you are planning to install a pool at your residence, it is important to consider the insurance implications as well as the safety issues. The Insurance Information Institute recommends the following:
Installing a pool will also increase your insurance liability risk. So contact your insurance agent to be sure your homeowners policy provides enough additional liability coverage. If your pool will be costly, this may mean you will have to increase your homeowners insurance coverage and perhaps add umbrella insurance to provide extra liability above what your homeowners policy provides for your home. Of course, your home insurance must also cover the cost of replacing your pool and any pool-related items like deck furniture, should a storm or other disaster destroy or damage it.
Contact your town or municipality since the definition of a pool which drives local building codes and safety standards will vary from town to town. You will want to have this information before you purchase the pool.
Here at our Lutherville / Timonium, MD agency, our highly experienced William M. Sparks Insurance agents are always glad to speak with you about any insurance needs. Before you decide on a pool for your backyard, you owe it to yourself to contact us to be sure you have optimum insurance coverage. We can answer your questions, refer you to other resources, offer a no-obligation policy review and discuss your options.