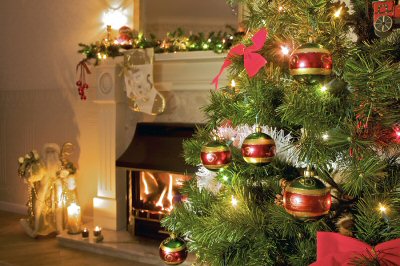 Winter brings an increased risk for fires and other disasters. This is even more of a risk during the holidays when everyone is busy gathering with friends and family this time of year, it's easy to overlook some simple safety measures that can reduce the risk of damage during the holidays.
If you hang stockings on the fireplace mantle, then be sure to move them away from the fireplace before lighting a fire, and keep other decorations away from open flames and power receptacles and plugs. Statistics show that 20% of home fires that occur in December are the result of decorations that are too close to heat sources.
Be sure your Christmas lights are used appropriately. Avoid using indoor lights in the outdoors, and vice versa; and see that the lights you use have been properly rated for their intended use. Take a moment to check each strand of lights for frayed or bare wires, damaged sockets and loose connections. If you expect to be stringing your lights together, limit to three strands to avoid overloading your extension cord.
Consider battery operated candles as opposed to real candles to avoid a fire hazard. When using real candles, do not leave them unattended or where they can be easily knocked over.
Avoid using lights on metallic trees which could become charged with electricity if the lights are not in good condition. Someone touching such a charged tree could be accidently electrocuted.
When leaving the premises or going to bed, make sure to turn off all decorative lights. Keep live trees well-watered so they remain hydrated while in use. A tree that dries out can become a fire hazard if exposed to decorative lights,
View this video from the National Fire Prevention Association (NFPA) for more useful tips....
Home Insurance Tips
Be mindful of the risk of homeowners liability claims. Keep the front door and walkways well-lit and free of obstacles that could be a tripping or falling hazard for your visitors. In particular, if you decorate your lawn with any blow-up decorations that must be anchored in the lawn, monitor them to be sure they do not shift and obstruct your visitors' path. The holidays can be busy for everyone and will be likely full of activities. A few practical precautions can help you and your loved ones to enjoy an accident-free season and can prevent you from having to file homeowners insurance claims when you would rather be celebrating.
Feel free to contact any of our very capable and experienced agents at the William M. Sparks Insurance Agency here in Lutherville/Timonium MD to discuss your home insurance. We can help you review your current insurance policy and explore your options to be sure you have the best coverage and protection according to your circumstances.
---